Even the holiday decorations in the medieval hilltown of Assisi – citta' della pace – bear witness to San Francesco; simplicity is the theme. Over 25 years ago, Pope John Paul II chose Assisi as the perfect site for his peace gathering, inviting 160 world religious leaders for interfaith dialogue. "Il Poverello," San Francesco, born here at the end of the 12th century, is known worldwide as an emblem of peace, poverty and simplicity.
At Christmastime in Greccio in 1222, Francesco wished to bring alive (literally!) the Christmas story for the local peasants in a simple way, preaching to them in a stall flanked by an ox and an ass, thus creating a presepe vivente, "living crèche."
His biographer tells us that the Christ Child appeared in his arms as he preached. Tiny mountain villages around Assisi still create presepi viventi on December 24, 25, 26, and January 1 and 6 (when the Kings arrive, bearing gifts).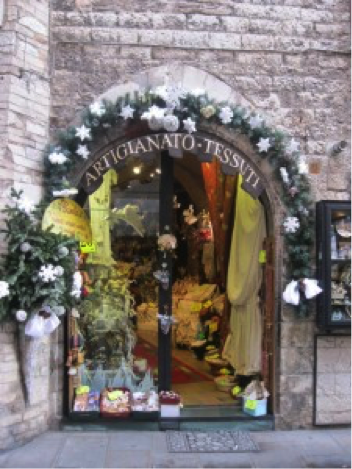 And, in Assisi in early December, the contest of presepi artistici starts. Over 60 Christmas cribs are set up in shop storefronts, hotel entryways, under medieval arches, in the churches, and in surrounding fountains.
The local populace, including the local school classes, makes cribs in every imaginable artistic medium: terracotta, maiolica, olive wood, blown glass, stained glass, wrought iron, copper, cork, and recycled materials of every kind – after all, our Francesco is the patron saint of ecology. The presepi, enchanting visitors until the sixth of January, are often in surprising settings and always moving in their simplicity.
The Gothic pointed arches over homes and Assisi's shops might have a bit of embellishment: droplets of white lights, branches of evergreens, intertwining red ribbons. Strings of white lights crisscross the main square in front of the 1st B.C. Roman temple. With handmade presepi and simplicity of decoration, so la citta' del Poverello celebrates Natale.