After the recent and remarkable Italian national team performance, ending with a win in the Euro Cup final over England, it is time to get excited about the league many of those same players call home. Coming this season in Italy's top soccer flight, Serie A, you will see some of our favorite Italian national team players, including Nicolò Barella (Inter), Giorgio Chiellini (Juventus), Ciro Immobile (Lazio), and many more. League play started August 21, 2021.
Calcio is what Italians use for the word soccer, literally meaning "kick." It is Italy's most popular sport, making Serie A one of the best soccer leagues in the world. It boasts household names among soccer fans around the world such as Portuguese forward Cristiano Ronaldo (Juventus) and Swedish striker Zlatan Ibrahimović (AC Milan). The majority of the 380 matches can be viewed in the U.S. on the online streaming service Paramount+, since CBS sports has acquired exclusive rights for the 2021-22 season. Select matches may be moved to other CBS Sports platforms. The streaming service is easy to acquire with a user-friendly interface that can be added to your smart TV or streamed using a device like a Roku or Firestick. It is a must for anyone interested in Calcio.
Serie A is made up of 20 teams working within a point system. Each team is playing to be awarded the Scudetto (Italian for shield). There are other key trophies such as the Coppa Italia, Supercoppa Italiana, or UEFA Champions League. The Scudetto, however, signifies the champions of Italy. Not a tournament or series, only a classic round robin where every team plays each other twice, once at home, once away. Each team receives three points for a win, one point for a tie. The team that accumulates the most points by the end of the season is the champion. That team will proudly wear on their kit an Italian shield the following season signifying their accomplishment. This season, Football Club Internazionale Milano or Inter will wear the Scudetto, due to winning the 2020-21 season.
There are plenty of American interests affecting the league with AC Milan, Roma, and Fiorentina owners being based in the U.S. There are also American players to root for such as National Players Bryan Reynolds (Roma) and Weston McKennie who is playing his second season at Juventus. McKennie became the highest scoring American in Serie A history last year and is on his way to become the best American player to ever play in the league. Tanner Tessmann and Gianluca Busio will both play for newly promoted Venezia this season. Busio holds his Italian citizenship but represents the U.S. on the national level.
It is not easy to predict who the favorites are this season, but at the time of publishing I would give the edge to the Torino powerhouse Juventus. I really liked Italian winger Federico Chiesa in the Euro Cup tournament this year and I see him taking a big step forward in his play for his club that already has a lot of star power. However, do not count out Inter, AC Milan, Atalanta, or Napoli as all are in position to make a championship run. The previous season, Inter stopped Juventus from winning their 10th Scudetto in a row after almost a decade of excellence. However, with head coach Antonio Conte and striker Romelu Lukaku leaving Inter, Juventus acquiring a new coach, and other key players leaving clubs across Italy, this season will feature an exciting and unpredictable Scudetto race. So, this fall, pick out a favorite team to root for, enjoy the beautiful game, and experience the sport Italians have loved for generations.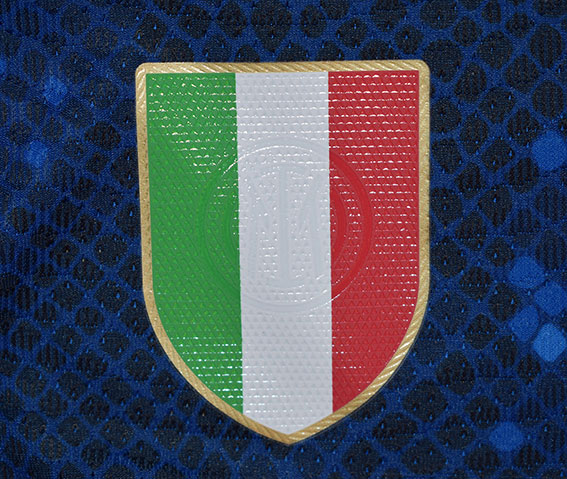 The Scudetto worn by Inter Milan for the 2021/22 season signifying them as the reigning champions.