Thursday, Sept. 2, 2021
"Vincere"
Drama, Romance
7:30 p.m., Atlas Cinemas Eastgate
A true story of Mussolini's secret love, Ida Dalser and their son Benitino.
The great Italian actress Giovanna Mezzogiorno plays Ida Dalzer who sells her jewels, furniture and business to support Mussolini's thirst for power always claiming until her death they were married and she his rightful wife. Mussolini declares his love for Ida and fathers a son but always keeps her at a distance.
As Mussolini attains power, for unknown reasons he leaves Ida and marries Rachele, but Ida is obsessed that she is his rightful wife. She writes letters of protest to everyone including the King of Italy and the Pope. Her continued obsession is met with her being confined in an insane asylum with her son Benitino Mussolini taken away from her and sent to a boarding school. This is a little-known, true story of a woman who sacrificed her life for a man who made history and his thirst for ravenous power.
This film garnered 47 Wins and 40 Nominations. Italian Oscar for Best Film, Best Director, Best Screenplay, Golden Globes for Best Actress, Best Film.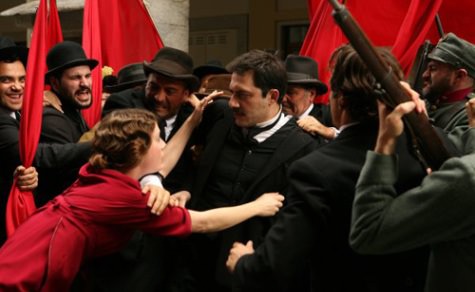 ---
Thursday, Sept. 9, 2021
"Lontano, Lontano"
Comedy
7:30 p.m., Atlas Cinemas Eastgate
This beautiful, touching film with a trio of great actors will enter your heart reminding you that you are never too old to change your life, and that dreams never get old.
Gianni, a retired professor, and two of his friends in Rome tired of paying high taxes from their meagre pensions decide to move to another country to find a better life.
They trawl the pubs and restaurants of sun-saturated Rome discussing their plans and discover they are still learning about themselves and life. A delightful film with characters you will want to spend more hours with long after the credits roll.
Italian Oscar winner for Best Adapted Screenplay, Golden Ciak for Best Actor, nominated Best Comedy, Best Actor, Italian National Syndicate of Film Journalists.