This month we are continuing our look at Italian civil birth records with a deep dive into a typical Italian birth record so that when you are looking at your own ancestor's record, you will know exactly what to look for even if you are not fluent in Italian. I have found the best way to teach people how to read an Italian record is to use an actual record. This is the birth record (Atto di Nascita) of my Great-Grandmother, Maria Di Frangia, who was born in 1861. For our study I am breaking it up into sections with handwritten words shown in bold, underlined text. Please note: it is difficult to translate word for word, so the translation is based on context. Civil records can include baptism information – on Maria's record, her baptism is recorded on the right side of the document.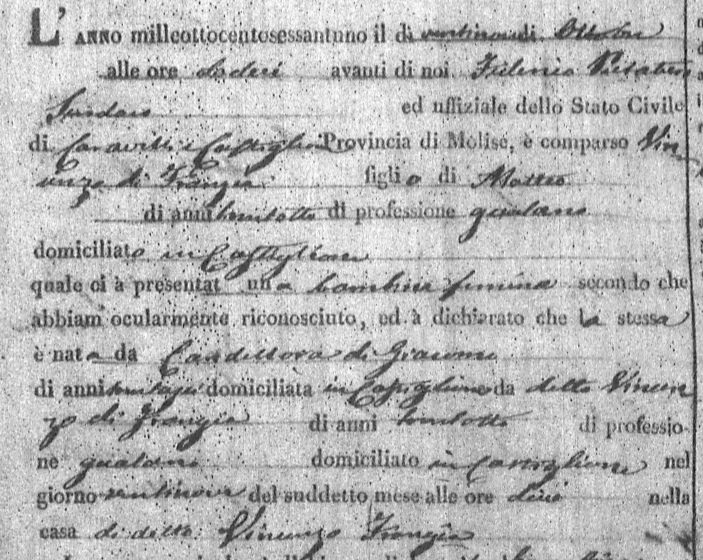 Italian: L'anno milleottocentosessantuno il di ventinove di Ottobre alle ore dodeci avanti di noi Federico Putaturo Sindaco ed uffiziale dello Stato Civile di Carovilli e Castiglione Provincia di Molise, `e comparso Vincenzo di Frangia figlio di Matteo di anni trentotto di professione gualano domiciliato in Castiglione quale ci `a presentat una bambina femina secondo che abbiam ocularmente riconosciuto, ed `a dichiarato che la stessa `e nata da Candellora di Giacomo di anni trentasei domicilata in Castiglione da detto Vincenzo di Frangia di anni trentotto di professione gualano domiciliato in Castiglione nel giorno ventinove del suddetto mese alle ore dieci nella casa di detto Vincenzo di Frangia.
English Translation: In the year 1861 on the 29th of October at the hour of 12 before me Federico Putaturo, Mayor and civil official of Carovilli and Castiglione Province of Molise, appeared Vincenzo di Frangia, son of Matteo, 38-years-old and whose profession is cow herder living in Castiglione presents a female child which we have seen with our own eyes, and declares the same child was born to Candellora di Giacomo, 36-years-old, living in Castiglione and to Vincenzo di Frangia, age 38, profession of cow herder living in Castiglione on the day 29 of the said month at the hour of ten in the house of said Vincenzo di Frangia. (Note: from this record we know that Vincenzo is the son of Matteo and because Matteo's name is not preceded by "fu" we know he is still living. If you see the word "fu" before a name, then it means the person is deceased.)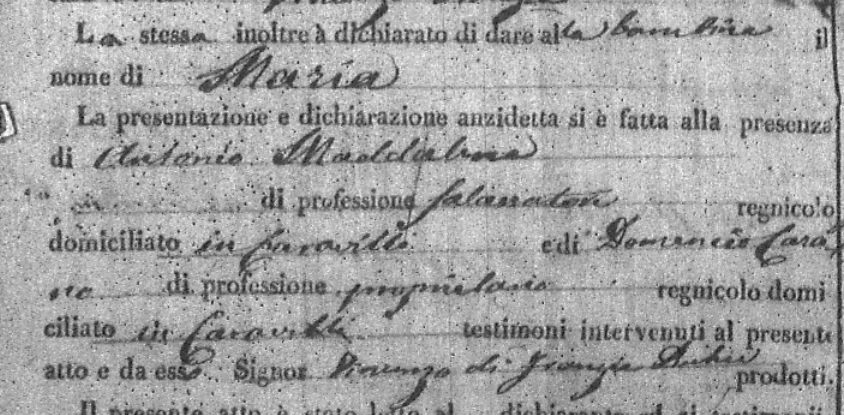 Italian: La stessa inoltre `a dichiarato di dare alla bambina il nome di Maria. La presentazione e dichiarazione anzidetta si `e fatta alla presenza di Antonio Maddelena di professione salassatore regniolo domicilato in Carovilli e di Domenico Carano domicilato di professione proprietario regniolo domicilato in Carovilli testimoni intervennti al presente atto e da esso Signor Vincenzo di Frangia [unreadable] prodotti.
English Translation: The same has declared that they have given the child the name of Maria. The aforementioned presentation and declaration was made in the presence of Antonio Maddelena, profession of blood letter*, native living in Carovilli and Domenico Carano, profession of proprietor, native living in Carovilli, witnesses for this act and from it Mister Vincenzo di Frangia [unreadable] products. (*Interestingly, Antonio, our witness the "blood letter", was not a vampire, but he did bleed folks for medical purposes who were suffering from some malady).

Common Words Used in Records
These websites are a great resource to help you translate some of the most common words found in Italian civil records:
https://www.familysearch.org/wiki/en/Italian_Genealogical_Word_List (list of common words)
https://script.byu.edu/Documents/Italian_Extraction_Guide-Section_D.pdf (list of common occupations)
https://script.byu.edu/Documents/Italian_Extraction_Guide-Chapter_2.pdf (detailed guide on translating records)

Unusual Words in Records
Sometimes you will come across an unusual word that you will not be able to find in an Italian dictionary or an online translation. For example, the word "gualano" for my Great-Grandpa Vincenzo's profession drove me crazy as I could not find it in my Italian dictionary nor get a translation online. To figure it out, I posted a query in Facebook's group "Italian Genealogy" and shared a copy of the record asking for help with the word. Within minutes, someone explained that it was an old word used for a cow herder in the regions of Puglia, Abruzzo and Molise!

Margin Notations
When looking through records you may also see handwritten annotations in the margins. Don't overlook these as they may contain valuable information. Some officials will record entries about marriage, death or immigration for the individual on the original birth record. Next month we will continue our study of Italian civil records.