Recipe provided courtesy of Miceli Dairy Products Company
2721 E. 90th St., Cleveland, OH 44104. Visit www.miceli-dairy.com for more information.
Ingredients:
1 box fudge marble cake mix
2 Pounds Miceli's ricotta cheese
¾ Cup sugar
4 Eggs
1 Teaspoon vanilla
1 Small box instant chocolate pudding mix
1 Cup milk
1-12 Ounce container miceli's
Mascarpone cheese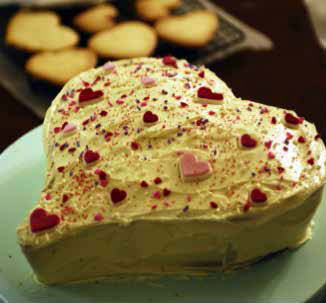 Directions:
Pre-heat oven to 350 F. Prepare c ake according to directions on box. Pour into greased and floured 9" x 13" pan. In another bowl combine ricotta, sugar, eggs and vanilla. Beat with an electr ic mixer to combine. Spoon evenly over unbaked cake. Bake at 350 degrees for 60 minutes or until cake springs back when touched. Cool completely on a wire rack. When cake has cooled, combine pudding mix, milk and mascarpone. Whip with electric mixer to combine. If you would like a smoother texture, add more milk to your preference. Spread o ver c ake and refrigerate. Tip: Have fun with this. Using a knife shape hearts on top of cake before refrigerating or use a heart shaped pan in lieu of a traditional 9" x 13" pan.