It is that time of year again, Italian Heritage Month! What a great opportunity for all of us to share in the love and appreciation of our great culture. Celebrate in style with a trip to the Art Museum and a night in Little Italy or a trip to our Italian Gardens. I hope everyone takes the time to head down to the Columbus Day parade on Monday, October 9 in Little Italy. This is a great representation to all Italians of what we can do when we put our minds to something. The parade kicks off at noon in Little Italy. You won't want to miss it! And, of course, bring your family!
If you have a passion for writing and are looking to help support our newspaper, please contact me at This email address is being protected from spambots. You need JavaScript enabled to view it.. We are especially looking for writers in the Akron, Youngstown, Columbus, and Pittsburgh areas. We know many of our readers would love to see more localized news, so please consider contributing your thoughts!
We are also seeking commission-based sales representatives in the above-mentioned areas. La Gazzetta continues to grow and we know that would not be possible without all of our loyal readers and advertisers.
As always, we would love your input, so please reach out to us with your feedback. We are working on our plans for 2024 and we welcome your ideas.
Please enjoy this article from October 2017 from our contributing writer Steven Fliegel of the Cleveland Museum of Art.
A portrait is customarily defined as a representation of a specific individual, such as the artist might meet in life. A portrait does not merely record someone's features but says something about who he or she is, offering a vivid sense of a real person's presence. In the 15th century, portraiture was considered a vehicle for presenting not simply the features but also the innermost character of an individual. The Italian architect and humanist, Leon Battista Alberti (1404-1472) made the following observation of portraiture in his treatise on painting (ca. 1435):
"Painting contains a divine force which not only makes absent men present, as friendship is said to do, but moreover makes the dead seem almost alive. Even after many centuries they are recognized with great pleasure and with great admiration for the painter…Thus the face of a man who is already dead certainly lives a long life through painting."
The art of portraiture extended back to ancient Greece and Rome and could exist in many forms such as sculpture, coins and cameos, as well as painting. While Florence favored the sculpted portrait in terracotta, bronze or marble, northern Italians favored their portraits in the form of exquisite jewel-like painted panels that were portable and could be moved from room to room or house to house.
In the Cleveland Museum of Art will be seen a small, finely painted portrait dating to the 1480s representing a youth of about 12 or 14 years. The boy has specific, not generic, facial features suggesting this is indeed the portrait of an actual person. The boy looks up and to his left in an almost angelic or contemplative way. He has the look of inner sanctity. His long golden locks fall to his shoulders, and he wears garments that were in fashion during the late 1400s. We unfortunately do not know the boy's name or the story behind the portrait. Was he the son of someone famous or affluent? Who commissioned the portrait? While we cannot answer these questions, the "Portrait of a Youth" offers an interesting clue. The boy holds an arrow, an attribute of and reference to Saint Sebastian.
Sebastian was an early martyr of the Church. A member of the Praetorian guard in the time of Diocletian, he was a secret Christian. Upon discovery, he was ordered to be shot with arrows and he is traditionally represented this way in art. The details of Saint Sebastian's martyrdom were first spoken of by fourth-century bishop Ambrose of Milan (Saint Ambrose) in his sermon (number 22) on Psalm 118. Ambrose stated that Sebastian came from Milan and that he was already venerated there at that time. Sebastian was by the late Middle Ages one of the most beloved and popular male saints and noted as a healing saint and protector against the plague. His veneration extended widely across Europe.
Our "Portrait of a Youth" shows the boy in the guise of Saint Sebastian. His clothing dates to the 1400s and therefore indicates that this work is a contemporary portrait and not an image of the historical saint. We might surmise that this small painting was an act of veneration to the saint. Might the boy have been named Sebastian? Might Sebastian have been his patron saint? Could the boy have been saved from a life-threatening illness through prayer and votive offerings to Saint Sebastian? And lastly, might this portrait have been itself an expression of thanks and veneration to the saint, possibly by a grateful parent, for a son's deliverance. Such is speculation without ready answers, yet it accounts for the connection between an unknown boy and a much-loved and highly-venerated saint.
Our portrait was painted in Milan by Giovanni Ambrogio de Predis (1455- ca.1508). Like many of his era, Ambrogio de Predis had multiple interests and talents. He was active in Milan and highly reputed as a painter. He was also an illuminator of books and a designer of coins and tapestries. He was born into a family of artists from Lombardy. Little is known about his training, however, he eventually found favor at the court of the Sforzas where he worked as a portraitist. As court painter to Ludovico Sforza, Ambrogio hosted Leonardo da Vinci for a stay in his home when Leonardo first came to Milan in 1483. The two collaborated on paintings for the Confraternity of the Immaculate Conception until the 1490s, including the famous painting, "Virgin of the Rocks," now in the National Gallery in London.
It was as a portrait painter that Ambrogio de Predis was best known among his peers. His portraits of the Milanese dukes served to present them in a favorable light to faraway nobles and friends and to influence what people would think of them. Before Maximilian I agreed to marry Sforza's daughter, Bianca Maria, he requested a portrait of her from Ambrogio. The wedding took place in 1493.
The "Portrait of a Youth as Saint Sebastian" dates to the 1480s when Ambrogio was engaged in collaboration with Leonardo. It reflects Leonardo's influence on Ambrogio through its muted tones and smoky shadows (called sfumato) that were characteristic of the great master's style. The portrait of this young boy remains compelling to the modern viewer. However, it leaves us asking for more. Who was he? Given Ambrogio's activities at the Sforza court, perhaps the boy was the child of a member of the court or perhaps of the duke himself. Some scholars have suggested he is Gian Galeazzo Maria Sforza (1469-1494), the sixth duke of Milan, based on the similarity of this portrait to others of Gian Galeazzo. Born in Abbiategrasso, he was only seven-years-old when in 1476 his father, Galeazzo Maria Sforza, was assassinated and he became the Duke of Milan. His uncle, Ludovico Sforza, acted as regent to the young duke, but quickly wrested all power from him and became the de facto ruler of Milan. Ludovico later became the duke after Gian Galeazzo's death, which was widely viewed as suspicious. Even if we cannot be completely certain of his identity, our portrait of this boy has preserved him for the ages and gives us affinity to him over 500 years later.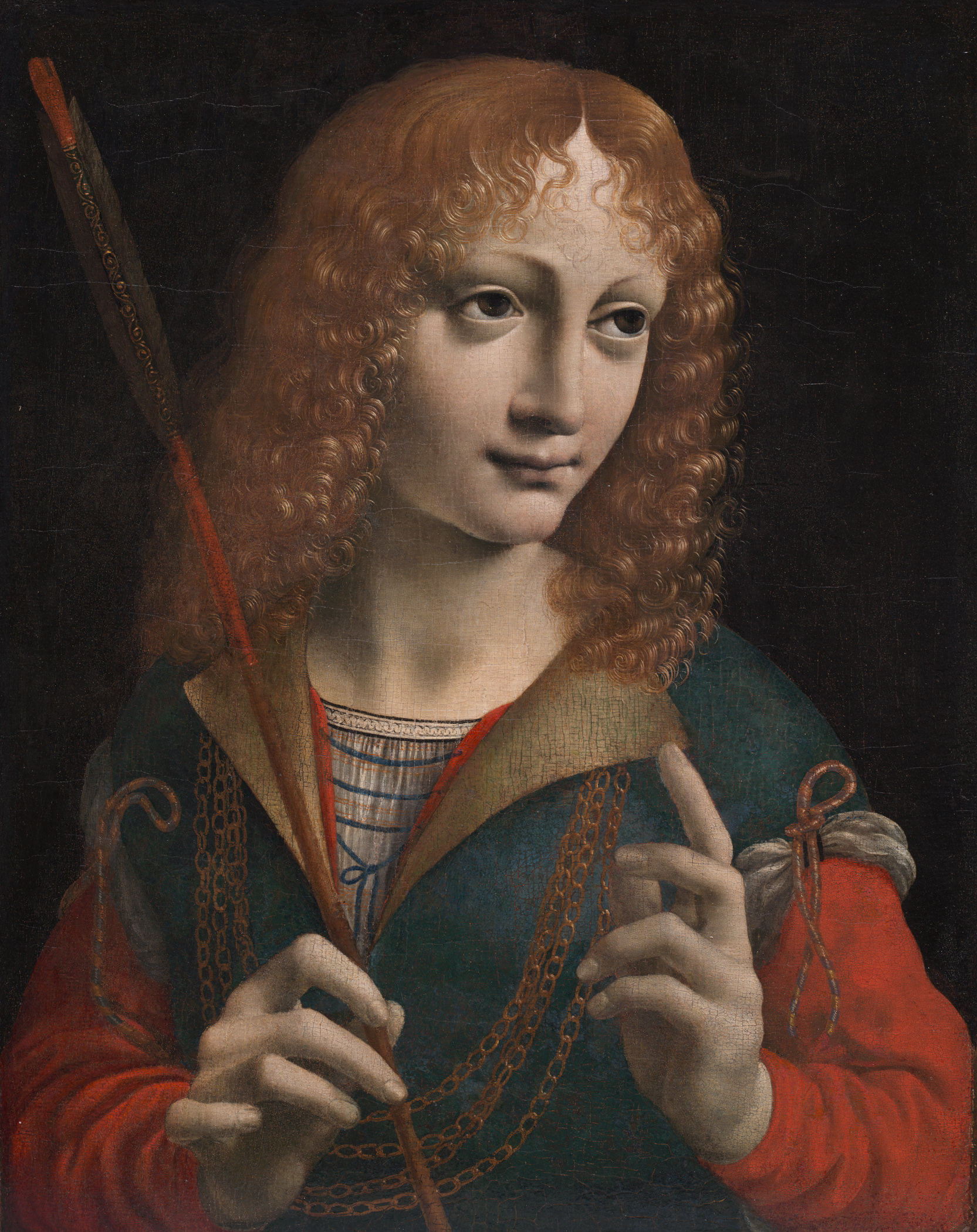 Portrait of a Youth as Saint Sebastian, about 1483; Oil on wood panel, 18-11/16 x 16-1/8 inches;
Giovanni Ambrogio de Predis; Italian, Milan, 1455-1508; The Cleveland Museum of Art, John L. Severance Fund 1986.9