You may not have thought about using U.S. military records to find out more about an Italian-born ancestor, so in this month's column, I am going to share with you what records may exist and contain information about your ancestors and where to find the records. Most Italian immigration occurred before WWI, so most of our focus will be on these early records. However, we will look at WWII records as well. If your ancestor was in America between 1917 and 1945, it is possible even if he did not serve in the U.S. military that there might be a war-related record available.
When researching Italian immigrant men, I have found a treasure trove in WWI and WWII Draft Registration records. Sometimes it is challenging to find information about our Italian ancestors such as the name of an ancestral village, full date of birth or name at birth. However, this information may have been captured in a draft registration. For example, date of birth is one of the data elements captured in draft registrations.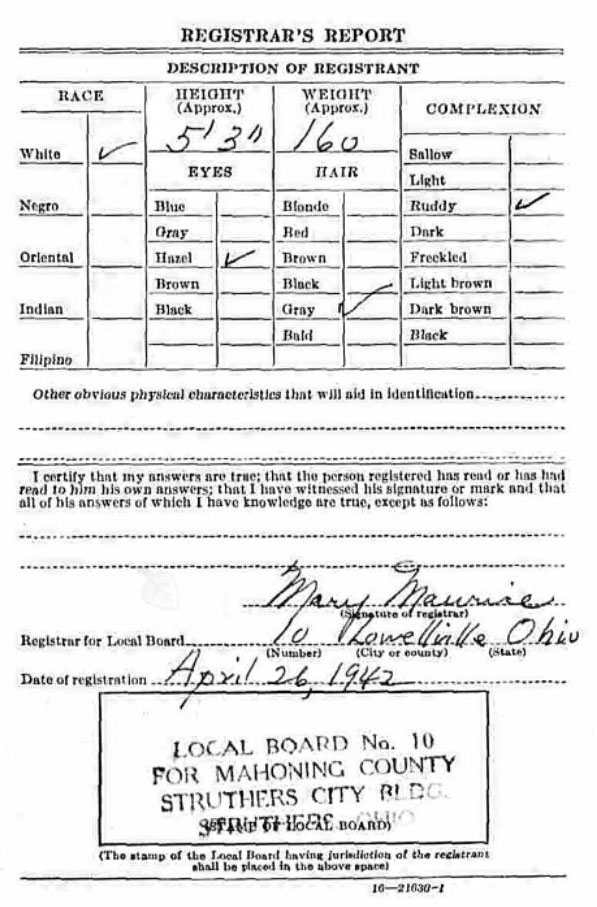 Italy joined the first war in 1915 (two years before the U.S.) and during this period, 90,000 Italian immigrants left America and returned to their home country to join the Italian army and fight for their homeland. Those who remained and who had filed their "first papers" (Declaration of Intent) to become a U.S. citizen were required to register for the draft under the Selective Service Act of 1917. There were three registrations for the draft. All men aged 21-30 were called to register on June 5, 1917; all men over 21 years were called to register on June 5, 1918. There was a supplemental call on August 24, 1918 for those who turned 21 after June 5, 1918. The final draft registration was September 12, 1918 for all men between the ages of 18 and 45. Some immigrants, who were not required to register for the draft, instead chose to fight for America, their adopted land. In fact, during WWI, 500,000 immigrants from 46 countries were members of the U.S. military and 12 percent of those were Italians. There was an advantage to joining the U.S. forces as it provided a fast-track to citizenship. Soldiers did not have to serve the five-year waiting period, they did not have to file their "first papers" and the application fees were waived. As a result, 192,000 service men gained their U.S. citizenship this way.
The U.S. officially entered WWII on December 8, 1941 following an attack on Pearl Harbor. A new selective service act required that all men between the ages of 18 and 65 had to register for the draft. Between November 1940 and October 1946, over 10 million men registered. Records from the WWII database are a gold mine. One of the registrations is often referred to as the "old man's registration." It was conducted on April 27, 1942 and registered men who born on or between April 28, 1877 and February 16, 1897 - men who were between 45 and 64 years old and who were not already in the military. Even non-citizens were required to register. This registration contains information for many of our ancestors who came to America during the great migration period of the early 1900s.

The information found in draft registrations varies depending on the version of the form in use, but generally, you can find:
Name of registrant
Age
Birth date
Birthplace
Residence
Employer information
Name and address of person who would always know the registrant's whereabouts
Physical description of registrant (race, height, weight, eye and hair colors, complexion)
Men registered for the draft at one of 4,500 Draft Registration Boards across the U.S. These records can be searched for and viewed online at either www.familysearch.org (free) or at www.ancestry.com (by subscription or at a public library).
Just like during WWI, joining the U.S. military to fight for America also enabled an immigrant to fast-track their path to citizenship after the passage of the Second War Powers Act of 1942. If your ancestor actually served, unfortunately finding these records is a bit more difficult as there was a fire in 1973 at the National Personnel Records Center in St. Louis, MO that destroyed over 80 percent of the Army and 75 percent of the Air Force WWI and WWII records. Despite this catastrophic loss, there is a place to look for service records. The National Archives may have service-related records about your ancestor in their holdings and will try to compile a service record for a fee. These records are not online and you have to write to the National Archives to request the record. You can find more information at https://www.archives.gov/veterans/military-service-records.