Spectacular – The architecture and panorama of historic Rocca Bernarda castle, crowning the summit of a winding ascent in the Friulan countryside, is just that. This impressive estate, born as a fief of Aquila's patriarchy in the late Middle Ages, was transformed into a fortified castle in 1567 by counts Jacopo and Bernardo (hence its name) of Valvason Maniago. On the picturesque hillside, its XVI century tower overlooks graceful terraced vineyards that face the impressive Julian Alps in one direction and the Adriatic Sea in the other. The territory is Friuli Venezia Giulia, an area of northeastern Italy, and it is renowned as one of the most important wine producing regions in the country.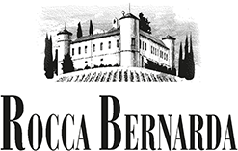 Rocca Bernarda is an historic name in Friuli, a wine producing estate there since 1559. Their wines are made at Premariacco, an enchanting spot in the Colli Orientali. Two hundred sixty hectares of land, thirty-eight of which are under vine, surround the winery, including certain terraces which date back to the winery's inception. Still today, a Latin inscription on the ancient exterior wall is legible: VINEIS AVITIS REST ET AUCTIS – a reminder that vines were cultivated in the surrounding territory even then. The terrain is the typical 'ponca' of Friuli, composed of sand and sandstone marl, which conveys a unique elegance and minerality to the wines.
In fact, Rocca Bernarda's wine making has earned it an impressive reputation; SPIRITO diVINO magazine calls it a "valuable gem of Italian tradition." The article delves into the history of the winery and its exceptional quality, explaining that "a wine's label becoming undistinguishably synonymous with a variety is the destiny of magic places where heroic supremacy in Italy has established its fortunes. In the Friuli region there is an extraordinary example – Rocca Bernarda and Picolit – a palindrome that can be read in both directions of taste."
The production philosophy of this winery is clear: territory, native grapes, and wines with the strong imprint of Friuli.
At Rocca Bernarda, that means embracing time-honored tradition with production of the region's native wines: Friulano, Ribolla Gialla, Glera, Refosco dal Peduncolo Rosso, Pignolo, and the renowned Picolit varietal, described by Forbes Magazine as a precious commodity. Rocca Bernarda boasts the oldest Picolit vineyard in Friuli, thanks to the illustrious Perusini family, proprietors of the estate until 1975. They were strong advocates of the grape, rescuing it from extinction and exalting it with a famous treatise in 1902. Their passion for Picolit was ultimately justified - When Countess Giuseppina Perusini Antonini hosted Luigi Veronelli there in 1956, the icon of food and wine journalism tasted several vintages and remarked, "There does not exist a more noble wine in Italy than this one." More recently, Cathy Huyghe, renowned wine critic, praised Rocca Bernarda's Picolit this May, describing it as "redolent of mature walnuts, sweet apricot, aromatic acacia honey, and lively citrus."
The barrique-aged reds remain in the historic cellar underneath the villa. These have the character and complexity of great wines – a layered spiciness, a wild undertone that renders them vibrant, and a juiciness that finishes in great balance and substance. The whites are fragrant with fruity and floral notes, maintaining the classic imprint of their grapes. Well-rounded and pleasing with balanced acidity, they reflect perfect harmony between mouth and nose, supported by a distinct minerality that reflects the region's terroir.
Rocca Bernarda is one of several wine estates belonging to the Order of Malta and managed by SAGRIVIT. The Order has a long tradition of humanitarian aid, beginning in the XI century with a hospital in Jerusalem that cared for pilgrims of every religion and race. For over 900 years the Order has remained true to its inspiring principles, summarized in the motto "Tuitio Fidei et Obsequium Pauperum" – nurturing, witnessing and protecting the faith and serving the poor and the sick – which become reality through humanitarian projects and social assistance in 120 countries.
For more information on where to find Rocca Bernarda's wines, contact Giulia Luccioli, Sales Director Wine Estates: cell: +39 346 601 2486; email: This email address is being protected from spambots. You need JavaScript enabled to view it.