The History of Italian Knife Masters
In a small village north of Florence, Tuscany, a family of master craftsmen has been continuing the artisan tradition of knife production for 5 generations (since 1895) without interruption. It is an incredible testimony of art, culture, tradition, and respect for one's roots, which I felt compelled to get to know better.
It takes one-hour and good gears to drive from the center of the Tuscan capital, where I live, to climb the hills and reach the village where I'm headed, Scarperia, where the workshop of Coltellerie Berti can be found.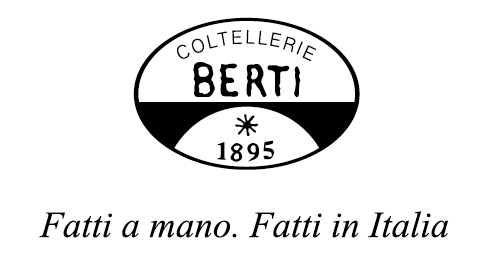 The trip also involves passing through a fairytale landscape, more challenging than those of familiar Tuscan postcards. I set out right before All Saints' Day - it's October 30th - and the autumn afternoon has something mystical about it: the road I follow is surrounded by centuries-old forests ablaze with foliage, foggy lakes, sudden appearances of grazing cattle and sparse houses. Scarperia materializes at the center of a lush valley, where the road then gently descends.
In the beginning, this outpost was only an isolated castle: the first stone was laid in 1306 on the mountain pass that connected Florence to Northern Italy and all of Europe. This was done by the powerful Municipality of Florence to ensure the profitable development of trade. Some trace the origin of the production of cutting tools to the need for weapons during one of the many sieges suffered; others, on the other hand, link it to the agricultural work carried out by those who lived around the castle.
In any case, the first document that testifies to the presence of non-gunsmith cutler artisans in Scarperia dates back to the second half of the 15th century. It is an inventory of the assets of a Florentine banker, Romolo Bucci, who, on November 9, 1479, left to his heirs (among other things), "29 knives for women from Scarperia, 3 pairs of small knives with Scarperia's golden winding sheath, 4 Scarperia knife blades". It is clear, therefore, that the local production of blades was already enjoying a certain prestige, so much so that it competed with knives and "cutting irons" produced throughout Europe.
Their fame grew over the centuries and, after the Italian unification in 1861, a large national knife market was created right in this village. Year after year, with the cessation of regional production, the numerous models that made up the rich Italian knife-making tradition were adopted by the Tuscan artisans, until Scarperia became the custodian of a precious heritage of regional models.
As I enter the workshop of Coltellerie Berti, Andrea Berti welcomes me with an old-fashioned greeting in his rustic yet extremely elegant way. I imagine his ancestors may have greeted their visitors in the same way: David Berti, in 1895, then Severino, son of David, then Alvaro, son of Severino.
The premises where Coltellerie Berti's knives are produced also seem to have stood still in time.
There are about ten artisans at work. Most of them are of a "certain age", but among them I also spot a few young apprentices, who however, "need at least 3 years of training before they can produce something for the market," Andrea tells me. "Anyway, not everyone makes it… I mean, not everyone has 'that something'."
Craftsmen often work kneeling on cushions or sitting on low stools. They melt, assemble, sharpen. Each man works only one knife at a time from start to finish, without dividing the labor: from the steel sheet, to the handle, to the internal mechanisms. Once he's done, the artisan marks the blade with his initials.
This is real work: human beings repeating gestures for generations. There is some mystery around the significance of this human dedication and, at Coltellerie Berti, they bring this wonderful mystery back into the everyday life of ordinary people. They make it a life mission.
Next to the workshops is an astonishing showroom: the company has hundreds and hundreds of styles of reference knives spanning the most diverse uses. As an Italian, of course, what interests me most are kitchen knives and table knives, and in Scarperia it goes without saying that there are several local meats, cheeses and vegetables, each with its own consistency, each paired with its perfect blade.
The most recent models are produced in collaboration with internationally renowned chefs such as Gualtiero Marchesi or Ernst Knam, but there are also carvers with ancient and very refined tastes, such as the Pontormo. Berti created it taking inspiration from a knife that appears in "Cena in Emmaus", a painting by Jacopo da Pontormo, dated 1525 and today exhibited in the Uffizi Gallery.
As we walk around surrounded by all this wonder, I also discover that the artisan traditions still meet and understand each other: Andrea Berti travel a lot, visiting other European knife districts where this tradition has continued for centuries. I imagine them in front of a French fireplace at a table laden with game, discussing blades with the elderly craftsman from a village like Scarperia, but on the other side of the Alps.
It's not just international knife craftsmanship that intersects with Berti's: the culinary arts also have their relationship to the tradition. There are chefs all over the world who remember this family, even after twenty years. And the knives which were bought here return - via post - to be sharpened.
The knife has a profound meaning, a use that has ancient origins, and a production methodology that escapes – or, at least, should escape - modern economic logic. The first gift I remember from my father was a pocket knife, which he gave me during a walk in the forest when I was very little.
In the changing times and customs, everyone needs tangible, real, and authentic evidence of their past and their history which does not and will not change, like what I found here. A testimony that allows me to remember the world I come from and the values that created it. A testimony that also answers a deeper need: one which allows my specific way of being in this world to be seen as unique and unrepeatable.
We head outside. "We cannot live without tradition," Andrea tells me as he puffs on his trusty cigar. Then, as the day draws to a close and we both gaze at the fog forming down the valley, he adds one last thought: "Many define this as 'Material Culture', but instead I like to think that this is simply the way to affirm that every man is the fruit of a thought of God, that each is loved, each is necessary. "
Coltellerie Berti: www.coltellerieberti.it
Online Shop: www.tradizioniassociate.com